Where I seek out to make crispy chicken drumsticks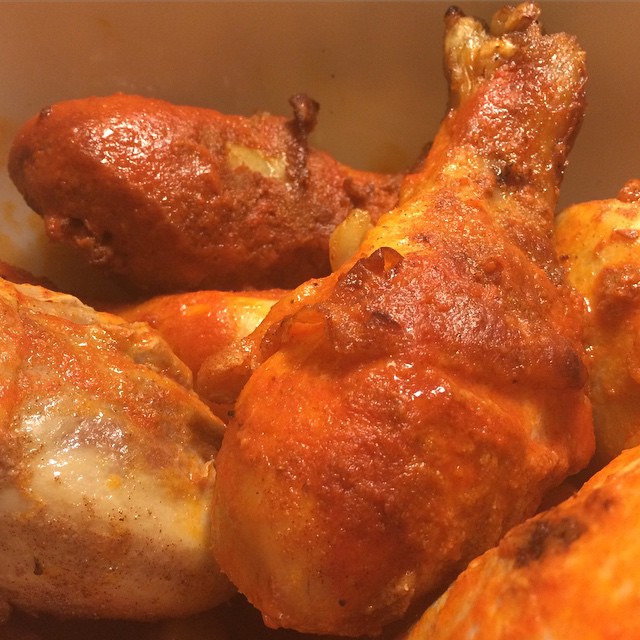 So, yesterday was the Super Bowl . . . and while it was a modest affair, I see the Super Bowl as the "last hurrah" of the holiday eating. Yeah, I try to be "good" and eat "clean" all year — but, well, I really fucking like food. I think about sex food all the time. And, as George Takei points out, The Super Bowl is the last hurrah in the Jabba holiday eating graph.
This year, I decided that I was going to indulge, but I was going to try to stay within my rules1 for the game. This meant no nachos . . . but guacamole and cheese.
It also left me wanting wings. Badly.
But, to get really crispy wings, I've always dried them, coated them in flour, and then baked them . . . and the covering in flour, well, that's against the rules.
Also against the rules? Paying something like $5/pound for wings. Now, if they were cooked and delivered to me? That'd be different . . . but the local grocery store jacked up the price on their wings leading up to the Super Bowl – but, in looking at the meat counter, it looked like they had no shortage of people buying them. So good for them. Capitalism works.
But chicken drumsticks were cheap . . . and, really, drumsticks are just like huge, giant wings. So, I decided to figure out how to make huge, giant wings within my rules – and tried to get them crispy.
I started, as I start almost every recipe journey, with Alton Brown's Wing Recipe, where he suggests steaming wings, cooling them, and then roasting them. But, the geek in me wasn't content to stop there, and I went to the Serious Eats baked wings recipe, where they suggest a dry rub containing baking powder.
I decided to try both approaches. I was heading out of town for the weekend, so I didn't have the luxury of the "3 to 18 hour" downtime . . . I had about 48 hours that I'd have to leave the chicken behind . . . so I steamed the drumsticks on Thursday night, let them cool, dried them with a paper towel, and rubbed them with a mixture of garlic powder, onion powder, mustard powder, and baking soda. Then I let them sit in baking trays, refrigerated, for the next few days.
When I got back home, I put them into the oven at 425, for 20 minutes, turned them, added the sauce (see below), and roasted for another 20 minutes.
The result was quite tasty, but not super crispy . . . I'm thinking about trying an almond meal breading next time. Though I'm hardly complaining about the result.
Oven Roasted Drumsticks
Chicken
10 drumsticks (about 3-4 pounds)
Aluminum foil (just to help with cleanup)
1 tablespoon baking powder
1 tablespoon garlic powder
1 tablespoon mustard powder
1 tablespoon onion powder
1 teaspoon cinnamon
Sauces
Hot Sauce
1/2 cup Frank's Hot Sauce
1/4 cup ghee
Honey/Garlic Sauce
1/2 cup soy sauce
1/2 cup teriyaki sauce
1/2 cup honey
1 tsp ginger paste
1 tbsp minced garlic
Steam chicken in large steaming attachment for 15-20 minutes (until meat appears to be cooked through).
Allow meat to cool and dry with paper towel.
Rub spice/baking powder mixture into drumsticks, place in aluminum-foil lined baking sheet, refrigerate until cold (at least 2-3 hours)
Preheat oven to 425
Transfer chicken to a roasting pan (otherwise the rub on the aluminum foil might burn) and place in oven for 20 minutes.
Use this 20 minutes to prepare your sauce
Turn the drumsticks and pour half the sauce onto the chicken.
Cook for another 20 minutes.
Remove and toss drumsticks with the other half of the sauce.
Eat immediately, with greek-yogurt blue cheese dressing (if that's your thing . . . this is the second time I've made it – I just put a Cuisinart mixer on low with all the ingredients together during the post-turn 20 minute span and the dressing came out just about perfect)
---
1 Minimal refined flour, minimal refined sugar. Nothing that might have trans fat. Limit potatoes, and/or corn without going crazy.
Leave a Reply