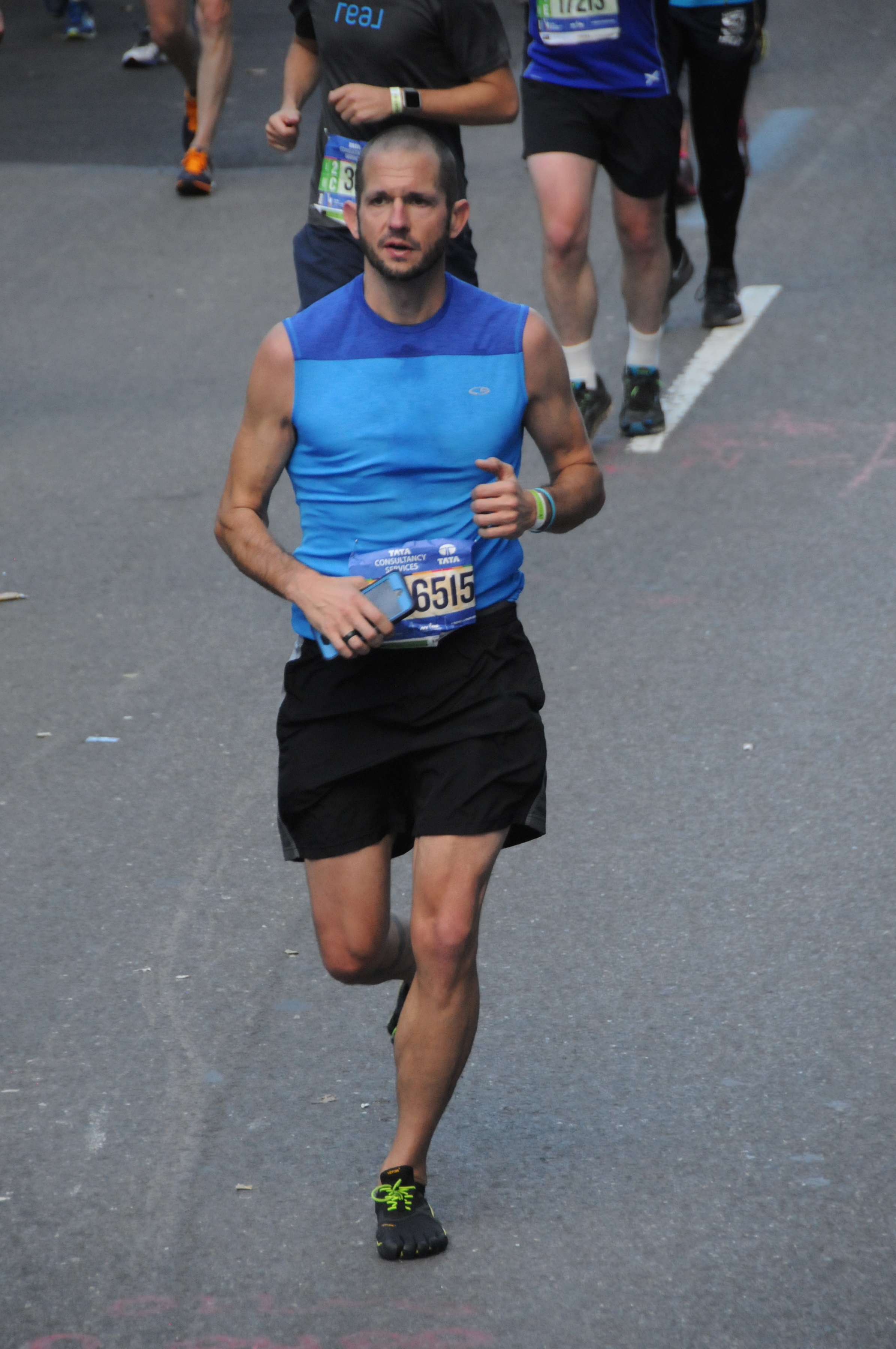 As I've mentioned, I switched jobs in April — my new employer happens to be one of the major sponsors of the TCS New York Marathon. I was just checking my work email, randomly, on a Saturday night when I noticed "guaranteed entry to the New York Marathon." I read it. I was intrigued. And five minutes later, I had agreed to run it.
The New York Marathon is the biggest marathon in the world, in what might be the most-bustling city in the world. For the most part, I run smaller races, and nothing about this race is small.
Signing up, you need to list three items:
Anticipated finish time (I stated between 4:00 and 4:15)
Whether I'd be using the bag check or receiving a parka (I chose the latter, which I'll talk about in detail)
What option I'd use for transportation to the start: get myself there, take the Staten Island Ferry, a NJ bus from the Meadlowlonds, or a bus from the New York Public Library. I opted for the NJ Transit option.
After that, it was all just getting through the race.
I don't know if I chose hastily or what, but I didn't read through everything that went into choosing the NJ Transit bus option. I knew I'd need to get back home that evening . . . so not having to drive myself out of NYC had a lot of sway in my thinking. What I didn't realize, though, that there was no parking at Giant's Stadium for this option.
When I discovered this, my original thought was to just get my way to the Staten Island Ferry . . . but I ended up staying the course. I parked at the Seacaucus Junction rail station, knowing it would cost me $29.00 for the day ($20, if I happened to get back before 12 hours elapsed), and scheduled an Uber to pick me up at 5 in the morning. I had the Uber drop me at MetLife stadium, hopped on the NJ Transit bus, and everything went SUPER easily. After the run, my plan was to either hop on the subway or walk back to Penn Station, take the train to Seacaucus Junction, and drive on home.
Heading into the race, I had to head to the Javitz center on Saturday to pick up my race bib and, simply, enjoy the Expo. Of all of my transportation decisions, this is the one I erred, as I drove into the city. Traffic was heavy all throughout Manhattan and parking cost an arm & a leg. Much like my plan to get home included mass transit, I should have, simply, parked at Seacaucus Junction, hopped on the train into the city, and walked to the convention center from Penn Station (about a mile). Alas, I did park, at Port Authority1. I walked to the convention center and had my bib and in about 10 minutes.
Considering the number of people running, I cannot get over how well-organized this whole thing was . . . though I guess every detail has to be planned, at an event of this magnitude, it's quite obvious that every detail was thought-of and acted-upon. Truly, I was impressed.
I spent about an hour walking about the expo — just checking out the different vendors. As the mornings are getting darker and darker as I walk my puppy, I actually spent a few bucks on a pair of fingerless gloves which include rechargeable LED lights. Also, I collected brochures from most every other marathon who happened to send an ambassador there. Because, yeah, I don't think I'm done running marathons.
After I had enough of the vendor spiels, I worked my way back into NJ, where I spent the night with a friend of mine.
In the week leading to the race, I stopped by the local Goodwill store and purchased a bunch of winter clothing: knit hats, sweat pants, sweat shirts, a winter jacket — all of which came with me into NJ for the start. On race day, I woke at 4am and by 4:30, I was dressed for the race, along with layer-after-layer of warm clothing.
By 5am, I had made my way to the parking lot. The Uber driver arrived minutes later.
10 minutes after that, he dropped me at Parking Lot K. My bib was checked and I was on a bus. NJ transit operates continually between 5am and 6am (I'm pretty sure, as long as you're there by 6am, they'll take you). They pack one bus fully and send it, then start filling the next. I was at MetLife stadium for less than 10 minutes.
While on the bus, I was informed that I had time to move my car, if I had parked at the stadium . . . but I'm not entirely sure that I did have time, as I have no idea where I could have parked.
I think the trip to Staten Island took just north of an hour, but I was busy chatting with other runners. One of the guys I sat next to someone who was running this marathon for the past 8 years. His advice:
Pee at the portapotties after your corral, as they're far less crowded.
Remember that the first mile is uphill so don't push too hard.
The second mile is downhill but don't let your nerves take off.
Use the 5k mark to start moving into your own pace.
Once at Fort Wadsworth, there was a quick check through security and I worked my bundled-way to my village where I grabbed a Dunkin' Donuts beanie (which was more comfortable than the hats I brought) and chatted with a few runners before finding a cozy batch of ground and taking a two hour nap.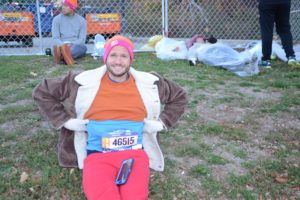 I woke from the nap, drank a bunch of free coffee, and worked my way to the corral.
The biggest difference for this marathon than all of my previous marathons is the start time & procedure. While I'm kind-of used to arriving, hanging out for a little bit, and running . . . here, I had probably walked, at least, 2 miles prior to starting. And that "hanging out for a little bit" was 4 hours of waiting. Honestly, though, my running strategy as of late worked quite well for me – as I've been running, mostly, over lunches, I've had a two mile walk with Benji beforehand, and when I do run, there is little more than coffee in my system.
Anyway, the cannon blasted around 10:40, and I was off.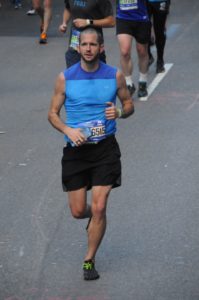 When they talk about NY being deceptively hilly, it's because the bridges have some grade to them . . . but the course is quite flat – I really don't consider a climb of 150 feet worth mentioning. But I kept easy for the first mile, tried hard to rein myself in for the second mile, and, right around mile 3, started to find my pace.
Normally, when I run, I put in my earbuds, turn up the volume, and try to use the music or audiobook to help me into the runner's high. This race, though, I chose to avoid the earbuds altogether. It's not that I wanted to avoid the runner's high (I can't tell you too much about most any mile marker, so I absolutely reached this little bit of nirvana), but I wanted to soak in The New York Marathon. I wanted it to flow through me. And, honestly, I'm quite glad I took this approach . . . the were just so many runners. The entire time, I had to keep mentally focused, because if I didn't, it would have meant a 200 pound runner barreling into another runner or, worse, one of the heroes from Team Achilles. Plus, I wouldn't have gotten the full picture of the crowd.
And the crowd was, simply, the best part of this race. For almost the entire route, the roads are packed with cheering, supportive spectators. Every block or so, a different band plays (be it a middle school jazz band, a bunch of retired guys playing bagpipes, or a death metal duo). People of every race, of every creed, cheering you, for every step of the way. The feeling was, in a word, amazing2.
My mindset, heading in, was to relax early, then break the race into each borough: get through Brooklyn (which is essentially the halfway point), into Queens, take solace in the quiet of the bridge into Manhattan, enjoy the run as I head north up Manhattan, get into the Bronx and mile marker 20, and then ride adrenaline back into Manhattan to the finish.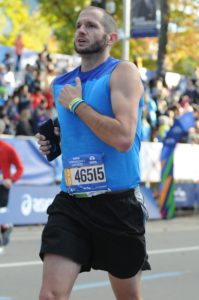 And the plan worked, until I got back into Manhattan.
Any runner who has ever run knows how annoying cramps can be. And right after I crossed the bridge back into Manhattan, my left quad started to complain. Rather than fight through it, I stopped. I walked, found a place to stretch and stopped. Only, as I stretched, other muscled started to cramp. I'd get the cramping under wraps, only to have it start again a few hundred yards later. The worst was when my hips & *ahem* nether-region started to seize.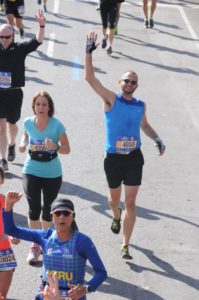 Mom, you probably don't want to read this paragraph. Guys, you know when you've had a particularly long dry-spell? When your schedule is so very crazy that, not only do you & your certain someone have any alone time, but you don't even have alone time by yourself? And then, *poof* you find some, and you're getting into it, getting close, and then the kids wake up, the house catches fire, and your boss calls your cell phone all at the same time? So you have to stop doing what you're doing. Then you try to walk? That ache? That's what it felt like.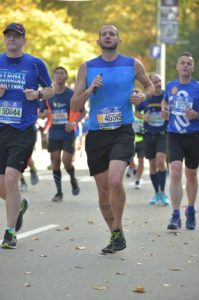 I managed to get all of my *ahem* issues under control by finding a seat and actually taking the weight off my legs for a minute. No fewer than a dozen people came up to me, as I rested, offering me Gatorade or bananas or water or their shirts off their back (well, not literally, though you got the sense that everybody who was cheering you on would have gladly given you whatever you asked for, if it meant that you'd get your way to the end — seriously, I can't get over how good the vibe from the crowd was, the entire way).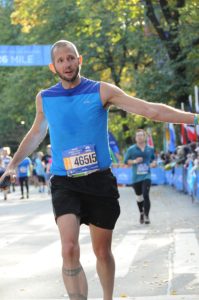 For the last 5k, I was able to run again.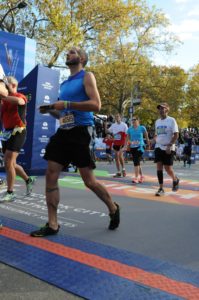 I finished.
I felt that I succeeded.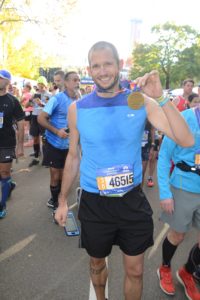 I had a blast.
Following the race, you walk a good distance. They hand out the medals, then the film sheets (by this point, I was quite chilly — the weather was actually just about perfect, but once the sweat started drying on me, I got a major case of the chills), then a recovery bag, and then, finally, the parka. I was QUITE glad to get the parka . . . not only did it mean that I was warm and now own a pretty freaking cool piece of outerwear, but it kept me from having to worry about my stuff not making it to the end-point.
Slowly, ever so slowly, I walked to Penn Station from Central Park. Yeah, I could have taken a subway — it would have been faster and more comfortable, but I just had the sense that my legs needed to keep moving in a way that wasn't taxing them.
Most everybody I passed on the street told me congratulations. I know New York city quite well . . . I've visited it numerous times. The number of conversations I've had with random strangers in Manhattan, until marathon day, could be counted on one hand. Yet, it seemed that everybody who I passed was eager to know how I did, was this my first marathon, was this my first time running New York, what did I think, how do I feel. Again, the vibe was a good vibe . . . I even get the sense that most New Yorkers don't mind the clusterfuck that the marathon brings to the traffic conditions. It's a feel good day.
I got to Penn Station, even the ticket seller at the NJ Transit booth told me congratulations. I hopped on a train, got to my truck, chatting with people all along the way. I got to my car as Giants and Rangers fans shouted their congratulations to me.
As I drove off, even if my finish time (4:10:55) was a bit later than I was hoping (I really wanted to beat four hours), I felt, truly, accomplished.
---
1 This provided a bit of happy nostalgia, at least. Growing up, about once a month or so, my family would head into New York. We'd park at Port Authority and walk to China Town for a meal before walking back. So, parking here brought me back to memories of my childhood, though the area around Port Authority is quite different than the place I remember.
2 Well, there was a Hasidic area of Brooklyn where the spectators were . . . subdued. They were watching, but watching quietly, as their religion would advise. There was a "you're running. Why?" vibe — it wasn't bad, just different.