Where I set out to win Gigi's camera
It's been far too long . . . the last couple of weeks have been rough. Work has been constant, with massive issue followed by massive issue. Of course, this isn't overly out-of-the-ordinary for anybody's workplace, but, well, we're nearing the holidays and that means everybody is taking time off . . . and, somehow, additional support stuff falls to me1.
Then, we had Thanksgiving – which is my favorite holiday.

We started off with the Carlisle Turkey Trot, and I'm happy to announce that I managed to take 45 seconds per mile off of my last year's 10k pace. Then, things got bad. See, my son decided to like Thanksgiving so much that he gave the entire family a present. Yes that's right, the Batzer family spent the 4 day weekend that was Thanksgiving dealing with a stomach bug. This was especially egregious because Friday, the day after Thanksgiving, was Duffy's birthday. We had fine plans – wake up, head out for a breakfast of crepes, relax for a bit, catch the Muppet Movie as a family, and then head for food & entertainment at a Japanese steakhouse for dinner.
On the way to my sister-in-law's, though, my daughter mentioned to all of us that she was just opening CJ's gift to her. Hoping to salvage something, Duffy & the now-healthy-CJ went to the movie while I stayed home with the sick Leila. Only, well, CJ wasn't interested in the movie, Leila wasn't getting any better, and both Duffy & I had that ookie feeling.
That ookie feeling didn't really leave until Monday. And, with Monday came the return to work – and this week has been just like things were before Thanksgving. I was afraid that this whole week would go without a post until Gigi of Klugy Mom announced that she was giving away a webcam. And, I love free stuff.
We just brought out the Elf on the Shelf at our house . . . and Bow looks especially creepy. And our Gollum statue looks especially nervous . . . so, I had no choice but to take the picture. And, honestly, I had no idea that this picture would give me the chance to win me a web cam. Thanks, Gigi! You know how I like to Elf everything up!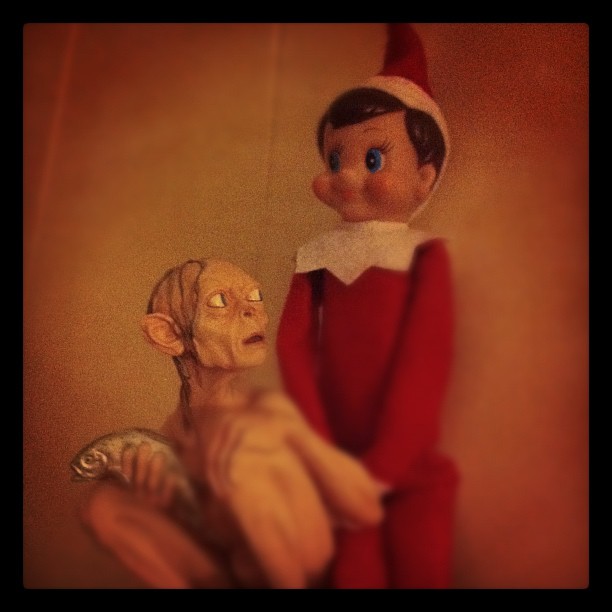 ---
1 This sounds a whole lot better than me screwing stuff up in new & inventive ways, resulting in me spending more time fixing stuff . . . for the most part, the work issues I've been working have all been caused by elements outside of my control.