Where I reveal my peanut butter bread recipe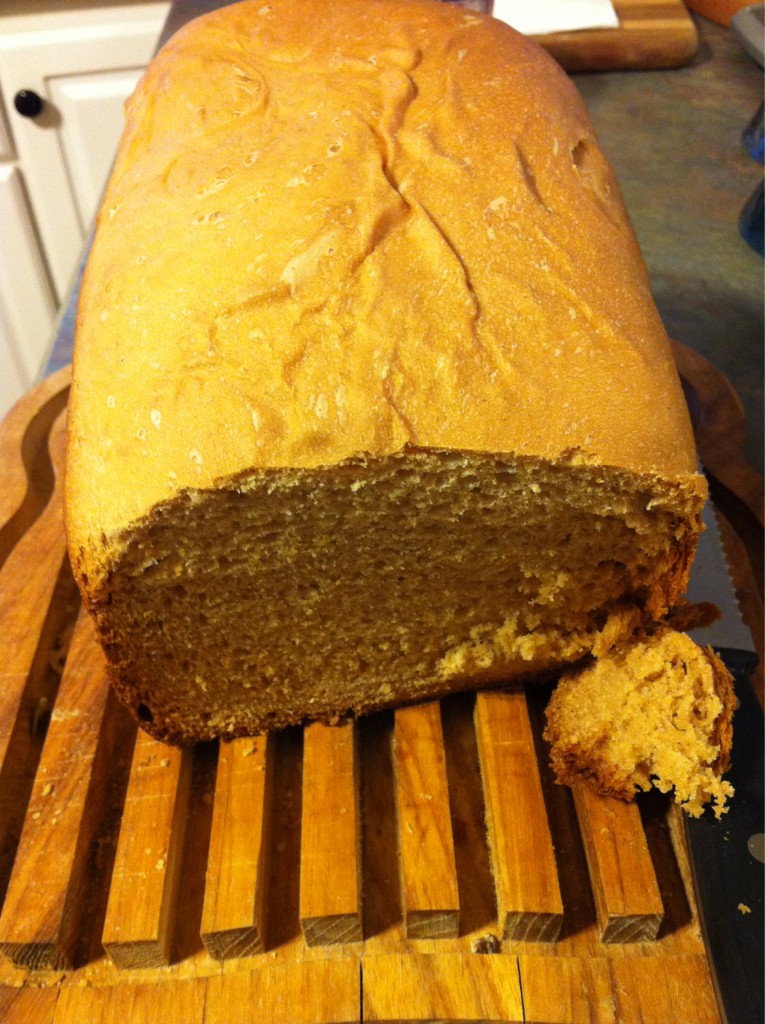 I got the bread machine for a wedding present. I actually had registered for one . . . see, I really, really love sandwiches, and a bread machine enables really yummy bread for the sandwiches. The problem, of course, is that I can't think "gee, I'd like some bread right now" and then poof have bread waiting1. No, having bread means either thinking ahead or buying it . . . and, much like I typically write, I cook by the seat of my pants. I usually think of what I want to make minutes before I make it, so the couple of hours to make myself bread just never, ever happens.
That said, I do have some recipes that are pretty stellar, assuming you remember to start beforehand actually think about what you want to make: beer/honey/garlic/wheat pizza dough, oatmeal honey wheat bread, and today's recipe.
Peanut Butter Bread
Put the ingredients into the bread maker in the following order:
1 ½ cups of luke-warm water
1 ½ teaspoons of salt2
6 tablespoons of honey3
1 cup of peanut butter5
4 cups of bread flour4
1 packet of Active-Dry (not quick rise) yeast6
I like to start the bread before I go to bed so that, when I wake up, it's waiting for me.
---
1
I like to use the word "poof" a lot, because
*poof*
is a sound made by Calpurnia in
The Block Mess Monster, by Betsie Howie
when she tries to rid her room of the Block Mess Monster, and Leila, after having the book read to her
one hundred gazillion
a handful of times, will start pointing & saying "poof" at random intervals.
2
I don't actually measure salt, but seeing as I've learned the same lessons as
KLZ at Taming Insanity
, I just take a pinch and add it to the water with a dramatic flare.
3 My trick for measuring & pouring honey is to always use the same spoon to measure any/all oil as with honey. If you measure, pour from an oiled spoon, the honey pours very easily . . . if you try to pour honey from a dry spoon, you get a sticky mess. Because there is no oil in this bread (the peanut butter provides all of the fat necessary), I just lightly oil a measuring spoon with olive oil before measuring the honey).
4 I prefer crunchy peanut butter to smooth when I'm eating peanut butter in a sandwich, or on a bagel, or by the spoonful, but only smooth will work here. I used Jif Natural for this.
5 I always use King Arthur flour, because that's what my mommy said to do.
6 On the top of the flour, make a small divot with your finger, and then pour the yeast into said divot. I don't know why this makes for the best-rising bread, but it does.