Where I ponder the upcoming blogsiversary
I've been in a bit of a guest-post kick lately . . . the thing is that I really like writing guest posts. Knowing that I'm going to be at another location forces me to be on my best behavior brings out my best writing, because I actually sit down and read what I'm posting. A post here, well, I do a cursory inspection before I post. But for a guest post, I actually read that a time or a dozen before I send it off1.
But, now I'm back here . . . and I really want to post more often. Because I love posting here — the thing is, the more I post here, the more I want to post here. And the more I want to post here, the better I think my writing is . . . so I want to post more and more and more and more. And this is all a good thing.
We're coming up on something big, though. I'm approaching one full year of daddyrunsalot.com — and I'm finding some of the giddiness that I had when I started here. And that lead me to think about why the heck I blog. There is the "sanity check" component. The more I write, the more crazy escapes my head. But, that's only a part of it.
No, I can say that I write for myself . . . but I write for you. Comments make me happy. Knowing that people are reading is more effective than an hour in the chair with my shrink. It's truly wonderful to know that people want to read what's going on. Simply, it's you, the reader, that feed my want to write more. And it's you, the reader, that make me want to write better. And if I'm writing a great amount of high quality stuff, it's a relatively simple matter (in my mind2) to transition to writing something that I can make money from3.
So, as we approach my "blogsiversary," I'm linking up with Tracy, Sweaty, Ryan and Missy, who started things on their own, right around the same time I started here . . . cause, you know, it's fun like that…and anything to get me writing more is good to keep the voices at bay for my well-being 😉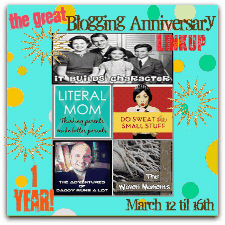 ---
1 And, even if I read something a dozen times, I'll still find passages that I wish I could have worded better, or a missed (or extranneous) comma.
2 We'll ignore the difference between what's in my head & the physical work of reality for right now.
3 The idea of making money from the blog is fun – but I don't think that would ever happen. In a perfect world, the blog would be self-sufficient . . . maybe also paying for a portion of my Starbucks habit. But, it would feed people to my writing style, getting you hooked, so that you wanted to spend your hard-earned money in reading actual novels, and plays, and short stories of sexual encounters.