Where I think about the past three years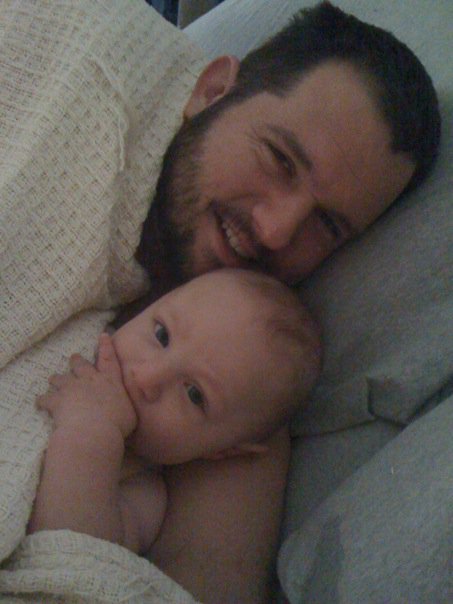 So I wrote this post and it was supposed to be published yesterday, but I forgot to actually schedule it, so you get it today.
I was dealing with a tedious day at work, when Duffy texted me. There was stuff to be done, as there always was, but I had different users wanting different things and, of course, everybody's needs should be my top priority (even if they contradicted one another). Jennifer, the birthmother, might be going into labor that very moment.
We had been through two disappointments, and "might be" and "actually" were very different words. So I was out to lunch when the call came in. Yes, the birthmother was going into labor, let's get going.
I couldn't just run, however – I had to head back to the office, explain that I'd be out of the office until whenever, and then go home. Duffy had pre-packed bags, which I threw into the back of my truck. Only I was a bit scatter-brained, and I didn't close the tailgate to my truck . . . just before I got onto the Pennsylvania Turnpike, a samaritan flashed his high beams at me . . . my hotel/hospital bag had fallen out from my truck bed. He handed it off, I secured our cargo (fortunately, nothing else was lost), and we were on our way.
Those of you who are familiar with the story know that the drive was a tense one. We got a troubling phone call as we crossed into Delaware, but, we didn't let it affect us.
We entered the hospital, met the social worker in the parking garage, got on the elevator, entered the birthmother's room, and heard the words that I'll never, ever forget: "there's your mommy and daddy!"
CJ was handed to us, and my life has never, ever been the same.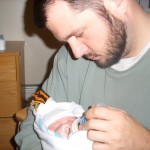 Three years seems an impossibly long time. And, yet, it feels like I became a father yesterday. Those nights that you just decide that sleep really isn't an option . . . well, I'm reminded of those early, early days, when you wouldn't even open your eyes. Happy birthday, my little ice-cream loving, silly, handsome, Batman-obsessed, geeky buddy . . . you were worth all of the effort, the disappointments, and even every sleepless night.