Where I have a little giggle at human nature
I love the way that we, as humans, feel the need to come up with back-stories for those we run across in our lives. When a person walks past me with a scowl on their face? I immediately start thinking what might have caused said scowl, and who might be responsible for the person's bad mood, and what they did . . . it might be just a few seconds, but I'm, basically, incapable of seeing someone without coming up with some amount of backstory for them.
And while I'm far from a secretive person, I don't exactly share each & every aspect of my life with each & every person I encounter. At work, I'll gladly talk about anything — but non-work-related topics really only ever come up if someone broaches the subject with me. As such, people who work in close proximity to me know a bit about my running and music. They know a lot about my kids – but, really, that's about it. And the people who work in the same building, but seldom with me, well, they just know there's this tall guy who walks through the aisles.
Just now, in the office kitchen, a coworker sneezed around me & apologized. Now, it's not like she sneezed in my face or anything — she just sneezed around me. I mentioned that there was no need to apologize & she just looked all confused. "Hmm, I thought you were a germophobe" she responded.
Now, I am far from being a germophobe. In fact, if there's an opposite of germophobe, that's me. Don't get me wrong, I'm not looking to ever get sick — but, well, germs are a part of life. I think some exposure to them actually helps to keep you from avoiding them in the long run.
So, naturally, I had to follow up. She mentioned that I just seemed like such a neat freak, because she sees me do dishes every day in the office kitchen sink.
This made me, truly, laugh out loud.
I don't think anyone who knows me can ever say that I'm a neat freak.
But, yes, I do wash dishes in the office kitchen sink every day.
See, because I'm an exceedingly cheap bastard because I like to ensure that I'm following my own eating plan, I bring in my lunch every day. Because I like to eat with reckless abandon try to eat enough food to ensure that, when I get home, I'm not "hangry", my lunch typically consists of several individual containers (e.g., today, there was a small glass jar for my morning Greek yogurt, then for lunch I'll have pulled chicken in a mason jar, sauerkraut and broccoli in Tupperware containers). My big fear is that something "comes up1 and when I next head into my truck, I find it missing from my driveway, having been driven away by a creature evolved from tiny scraps of chicken & sauerkraut particles, left alone without proper sanitation. Basically, I wash my dishes at the office kitchen sink in order to prevent a worse mess for the inevitable time that I leave my dishes, unwashed, for a significant period of time. And it helps provides me with a "non-work task" as I pack up for the day, allowing me to better "mentally break" work and home, which has, historically, been issue for me.
So, while I'd call myself a hoarder if I didn't have a problem throwing stuff away (I'm not, honestly. I'm just too damn lazy to look through a pile of stuff to see if there's anything that I know I'll need in the future and/or is valuable enough to try to sell on eBay . . . nevermind actually listing an item to sell on eBay), I'm barely a step above a slob (though I'm trying to get better about this). And, because of that need for people to fill in the gaps of people they see in the periphery, well, some people see me as a neat freak. Funny, huh?
---
1
I, in my eagerness to be home, leave my lunch containers, in my lunch bag
2
in my truck. I'll get sick, the kids will get sick, some weather situation will materialize, and/or the weekend will hit and I'll spend several days without ever even approaching my truck.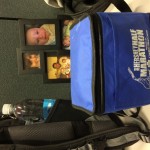 Leave a Reply