Where I recap my second take at the Harrisburg Marathon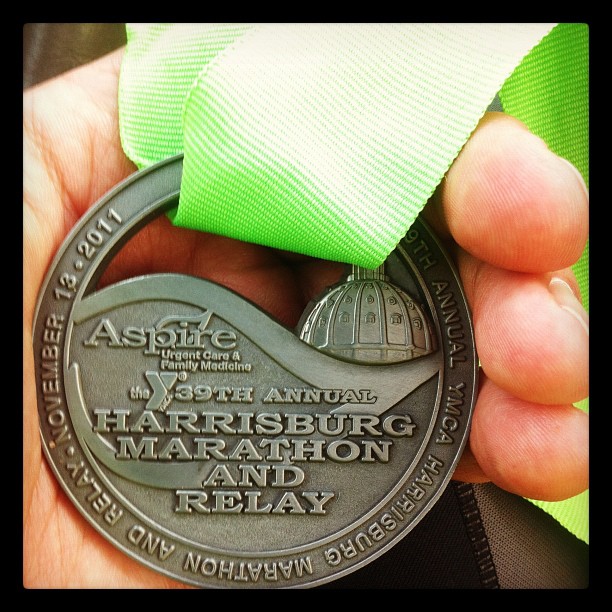 About two years ago, I started running, and I've thought back on that time a lot lately. Back then, it was purely about health – getting myself to move, committing to a "better me." I promised that I wouldn't, ever, care about my time – I'd go further and further and further. I'd find my limits, and I'd push them, constantly. Every day, I tried to run a little bit further. After a little while, I thought I was getting pretty close to being able to run a marathon, so I started paying attention to just how far I was running. Two years ago, I wouldn't have discounted the fact that I'd have run a marathon – the "me" back then would have understood wanting to "get it out of my system."

Then, the 2010 Harrisburg Marathon happened. I finished, and that's about all I can say. A few days after the finish, though, I knew, somehow, that I wasn't done with marathons. Simply, I had finished too weak. While I'm far from being a perfectionist, I didn't want my "one and done" to be that poor a showing. So, I ran the Gettysburg marathon, but I knew I'd come back to Harrisburg. Sure, 26.2 miles is 26.2 miles – but the course beat me that first time . . . and I wanted to beat the course.
The problem is – running one race is fine . . . it's what you do. And no two marathons are really the same, despite their distances. You run a race a second time to best your previous time. For the first time, I had to admit that my time actually mattered to me.
Saturday was a busy day – and I don't know if this was a blessing or a curse. There was a ton of stuff that I wanted to get done – I wanted to revamp my playlist, I wanted to pack my bag, I wanted to pack my tuxedo. I wanted to cycle on the exercise bike for a little bit, just to let me legs breathe a little. I wanted to nap and stretch and do all of the things that you're supposed to do before a big run. But, well, being the father of two toddlers . . . such options aren't always available, and I managed none of it. Truthfully, the day before the marathon was a great day, even if the kids were cranky, because I barely thought about the marathon at all.
I went to bed around 8:30, though, in the guest room, because, once Duffy got home and I started concentrating on the marathon, I started freaking out, just a tad. My longest training run wasn't even 16 miles…I, suddenly, felt unprepared.
3:30, I woke up in a panic, convinced that I had forgotten to set the alarm . . . I never got back to sleep. I went through my pre-marathon routine of manscaping at 4:30, and I was out the door a by 5:30, getting to the start of the event well-before 6:30. I watched the walkers leave, wishing many of them "good luck" (and, because I'm a stickler at giving stuff away, hearing "you're doing great, John" along the course, as I passed these same walkers was wonderful). I then sat near the indoor heating units, because damn, it was cold out.
First, I spoke with two sisters from outside of Philly, who had never run this course before, but had run a 12 hour race1 just a few weeks prior. When another woman, from outside of DC came by to say that she had run the same race, I realized that these were not my people. See, they talked about having to remember to run their 4.0 pace instead of their 3.0 pace (meaning a 4-hour marathon pace, instead of a 3-hour marathon pace) so that they'd have some juice left at the end. Me, running a 4-hour marathon is, perhaps, my all-time goal2. So, to these women, "taking it easy" was "running my pace." Eeek.
(note that the next couple of paragraphs may be somewhat snarky at best, but more likely, downright rude — sorry, ahead of time)
Then, a few people came up to talk to me about my shoes, because they stand out. One of the guys, who I ended up spending a lot of time talking to, was an older gentleman who ran in water shoes. He'd always run in water shoes, and he was curious how I was making out with my shoes. I said "I can't run in anything else," and tried to make my way3.
Just past 8, I was keeping myself warm by chit-chatting in front of a heating unit, speaking with a man who was just shy of his 60th birthday, running his second marathon. I mentioned that I thought it was great that he found running . . . and he said he was just getting back into running. He ran his last marathon at Harrisburg, 30 years ago. Kids got in the way, but they were on their own now. I felt a momentary loss for my lack of sleep as I get up at 4am to run, while the rest of my family sleeps.
Then, I ran into a runner who made me realize that, despite the amount of time I spend on Twitter & the blogosphere, I still have social skills. He mentioned that he was going to work his way to the start, to "get a good spot." I mentioned that I was going to wait where it was warm (the outside temperature was just below freezing at this point) and he said "well, I'm hoping to finish around 3-hours, so I'm going to work my way there."
I looked at him, questioningly, and mentioned that "we have chips, so the clock doesn't really matter," and he walked away (I assumed that he was working his way to the start). Two minutes later, a woman came up to speak to me about my shoes4 and my back ended up to the original guy . . . and he started the exact same "I think I'm going to work my way to the start…" I swear, it was line-for-line, like he was rehearsing it.
(Ok, snark over – time to get to the run)
I started out the race very differently. I hung out at the back of the pack, walked to the start, and only started to run after I had crossed the starting line. Early on, I passed a lot of people, but I never "ran hard" to get ahead of someone. While I had run through the run a thousand times in my head, trying to remember the sequence of events, I remembered bits from here & there. We were running around City Island when I had to remember that relay-runners aren't marathon runners. Last year, I pushed myself, hard, running around City Island, because people were passing me as if I was standing still . . . by the quarter-way mark, that shouldn't happen . . . unless people were running with "fresh legs" (and they were).
The run starts out in downtown Harrisburg, runs around a trail, then around City Island, follows the Susquehanna River for awhile, puts us through a residential zone, then through an industrial area, through the Harrisburg Area Community College, a very hilly park, then back through the residential zone, along the river, and ends at City Island.
I remember the water station at the industrial zone last year very clearly – first off, it's when I first stopped to walk (only for the water station, but I knew I was "in trouble" because I felt like I needed to walk for a little bit). Second, I met up with one of the people I was chatting with before the run started. Lastly, a woman, riding a bicycle the other way, flashed the crowd as she went by. I took my water at the station and kept on going, feeling great.
HACC proved to be great, because the cheering section was out in full force, and a dude was there handing out Twizzlers, and when you're running long distances . . . well, candy from strangers is always appreciated.
I hit mile marker 17 cautiously, because, the previous year, it was mile marker 18 that things started to unravel. Now, I run in Vibrams . . . and what I don't remember from the previous year was nearly an entire mile over a gravel trail, and, even with selective memory, I'd think I'd remember this far over gravel. When you run, over gravel, in Vibrams, you feel every stone. It hurts like hell. It sucked, but I got through.
Then, the park, with its uphills and downhills, followed by steeper uphills and steeper downhills (and, unlike cycling, running downhill sucks just as much as running uphill). I never stopped running. In fact, I passed a lady that I was chatting with before the race, dressed in a Wonder Woman outfit, who cheered me on as I went by her.
I took a Gu as I left the park and was still going strong when there was a random guy hanging out at mile marker 23. "Good job," he whispered (I'm not sure if he was a runner who was catching is breath, or waiting for someone else, or was a finisher who was working his way back home on foot, or a volunteer on "the lookout" for people who might be in trouble, or just a dude from the community who was checking out the marathon).
"Just a 5k," I responded.
I was feeling great.
And then I hit the last water station, at mile marker 24. Simply, there were a lot of people there. And, see my prior rant – I'm a lot bigger than most everyone. If I make contact with another runner, as I'm running…well, it would be bad. So, I walked through the station. And it was at least a quarter mile before I could get myself running again.
Then, right before we got back to City Island, there was a significant uphill before getting to the bridge to City Island . . . and I walked (as a group of walkers that I was chatting with before their start cheered me on from the base of the hill).
But, I hit the bridge and ran. Hard.
The clock read 4:28 and change when I crossed. It looks like my actual time was 4:27:36. Last year, I ran 5:22:32 . . . I was aiming for an hour difference, and I fell just short . . . but, I'm not disappointed, in the least. I finished strong. I finished happy. I broke 4:30. And I know there is room for improvement.
And, of course, I finished and then worked my way to play a concert with the West Shore Symphony Orchestra, because I'm marginally insane (or is that fully insane?) and double-booked myself.
I was certainly sore, but I was happy with myself. I ended up with a very, very tight left hamstring (that was feeling significantly better after 45 minutes on the exercise bike the next day – just moving helped) and a nasty set of blood blisters on my right, big toe. Those will be feeling "back to normal" in just a few days, I'm sure . . . and, because some of you seem to want to see these, well, click here if you want to.
---
1 A 12 hour race is, well, a 12 hour race. Rather than a set distance that you run, and the winner is the one who finishes first, a 12 hour race is a 12 hour run, in a loop, and the winner is the one who goes the furthest.
2 Sure, I have a nagging want to qualify for Boston, but that will require significant changes to the way I train for marathons, and I'm not in a position to make those commitments at this time.
3 This sounds terribly rude of me, but he was testing my patience. If you see me in real life, unless you see me legs-first, I don't look like a runner. It's entirely possible that I was the tallest runner in the marathon, and I'd be very surprised to find that I wasn't the heaviest runner in the marathon. My BMI has me well-into the "obese" scale, but I think I look pretty damn good. However, when you put me into a group of distance runners, I stand out a bit. This guy was comparing his shoes to mine, and going back to "and you're a big guy." I swear, he must have said those very words two-dozen times while I spoke to him. I did get some joy passing him at mile marker 6. I'm sure he didn't mean to be rude – but you don't go up to a person with a zit and say "that's quite the pimple you have on your nose."
4 Seriously, though, women – what is up with those of you who put makeup on to run a marathon? I understand wanting to "look good," but, for a marathon?