Where I relive my absolute favorite memory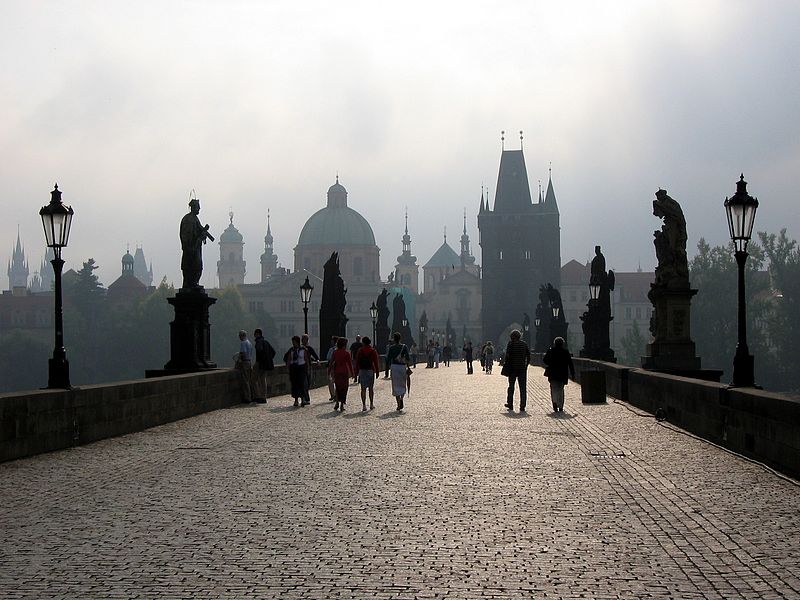 First, we had MamaKat's prompt – define your Seven Wonders of the World. I read MamaKat's blog every now & then, but well, life has been especially crazy as of late, and I never got a chance to play along with her linkup.
And, honestly, I'm not sure what all seven of mine would be – but I do know the first. And, since I'm pretty sure I can make a pretty entertaining story out of it, here is my greatest wonder1.

As many of you know, I'm a wannabe musician. While I'm at my best when I'm serving as an accompanist2 (as accompaniment makes everything a little less-structured), I do love playing in a symphony (where performance is very, very structured). I played as much as I could through my freshman year of high school, but these were mostly in "learning orchestras." We played some great pieces, and, according to our parents, we played some great concerts . . . but none of the "real classics."
My sophomore year of high school, though, I tried out for the Regional orchestra. Most states have district / regional / all-state musical groups (symphonies, bands, choirs, etc), and they're an honor to make. Well, I had a horrendous case of bronchitis when I tried out for my region — and I may have sipped a little extra codeine beforehand, to try to ensure that I wouldn't cough in the middle of the audition.
So, I was high, and sick, and I might not have practiced a whole heckuvalot . . . but, I play an instrument that not too many people play. The NJ Region 2 Orchestra took 8 of the 9 bassists who tried out for the orchestra that year. I was #7.
I don't remember what we played for the regional orchestra concert, but I certainly remember having fun with the other bassists in the group. Regional orchestra was fun – but wasn't unlike any of the previous orchestras I had played with — it still felt like a bunch of kids who just happened to be playing in an orchestra — not an orchestra that happened to only have kids in it.
Despite my relatively poor showing in the regional level, everyone who made regionals was invited to try-out for All State orchestra, and I decided to try my luck. I certainly didn't expect to make the All-State orchestra, having barely made it at the regional level, but I wanted the experience of the additional tryout.
Here's the thing, though, I made the All State Orchestra. In fact, of the 6 of us in the regional orchestra who tried out (the other 2 were seniors, and the actual orchestra gets together in the start of the next school year), I was the only one who was invited to All-State. It was pretty cool. In fact, I was the 4th chair – meaning that I can confidently say that I was the 4th best high school bassist in the state of NJ that year.
In All-State orchestra, we played what I consider the first true masterwork, Bedrich Smetana's Má vlast. And, I fell in love with all of it – especially "Vltava," (The Moldau).
Even now, if I happen to be at a river for a spectacular sunrise, the theme of The Moldau rings true in my head.
This orchestra has two concerts that season – my grandfather, who was almost always there whenever I played, was all smiles after listening to the one that was open to the public. He loved going to my concerts, but this was the first time that I actually felt that he was impressed with the performance, afterward (as opposed to being "just a proud grandfather," which was his all-time favorite activity).
After the second concert with the All-State Orchestra, I figured Má vlast was just a memory – a happy one, but that was it. I'd hear it again, and it would evoke that first "I'm a real musician" moment.
Then my grandfather died.
It was the summer after my sophomore year of college, and it was a very sad time. I was scheduled to head on a European tour later that summer with him — my cousin and I would basically carry his bags around while we went from location to location. While the trip was in the works, I didn't pay too much attention to it — when you're asked "do you want to go to Europe with your grandfather?" the answer is yes, always – who cares about the details?
After his death, we made the decision to continue with the trip – tickets were purchased and, well, he really wanted to make the trip, so we wanted to make it for him.
We started in Warsaw – myself, two of my cousins, and my grandfather's best friend. In Prague, we met up with my aunt & uncle, who had planned the trip, but were unable to start in Warsaw with the rest of us.
Prague remains, to this day, my absolute favorite memory.
The city was brought up in countless anecdotes throughout my memories with my grandfather3. He loved the shops, he loved the food, he loved how a truly historic city somehow managed to avoid Soviet-bloc-architecture. He even loved the language – how Czech wasn't a language he spoke, but he felt like he should be understanding every word spoken to him in it.
It was nearly sunset when we walked over the Charles bridge. It had been a long day on a long train ride from Warsaw to Prague. I had thoughts of my grandfather running through my head, and, as soon as I saw the Moldau – the river that Smetana had used as inspiration, the piece sprang into my mind. I could swear that those around me could hear it, as if my brain had turned into a speaker system.
I walked over the Charles Bridge with what I considered to be my first masterwork intertwined with memories of my grandfather running through my head, each step taking me closer to historic Prague — castles and spires and domed roofs and statues abound as the sun set and a hint of chill filled foggy air. The main theme from the Moldau ringing truer and truer with every step (some of you might recognize this, also, as the Israeli national anthem).
My Grand-Dad was with me at that moment, and that very moment is the one that cemented that my memory of his smile after the All-State orchestra concert will be the one that will always reside in my mind.
I never listen to recordings of "me," but I still pull the All-State Orchestra CD out every now & then.
---
1 Yes, I'm a married father of two – and my greatest wonder is from before I met my wife and from a time that the absolute worst thing I could be was "a father." I realize this may make me a shallow person . . . but there's something about a bit of majesty that can never be beat.
2 I may not be a virtuoso on any of my instruments, but I'm good enough to not "step on my own feet." I listen extraordinarily well. In short, I'm really good at adjusting my playing to best-benefit either the featured performer or the ensemble – this is why I think I'm at my best when I'm playing, as the sole bassist, in the pits of musical theater.
3 My grandfather was absolutely determined to use a computer, and after he learned the basics there, how to use the Internet — so throughout high school, I would set aside an evening every other week or so and head over to his condo to give him a computer lesson. We always had dinner afterward. This was on top of the second-Saturday-of-the-month-during-Opera-season days that we had together, taking the bus into the city to catch the Opera-du-jour at the Metropolitan Opera house . . . I was a very, very, very lucky child
Leave a Reply