Where I reveal my #mugswap partner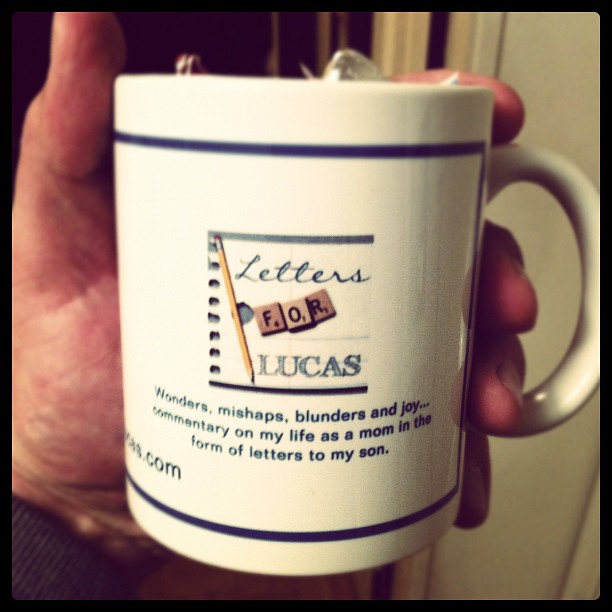 I remember reading about the Mug Swap last year . . . last year, I was still writing over at my old blogspot blog, knowing that I wanted to do more with it, but, really, having no idea what direction to take or what to do. However, I was very active on The Twitter, and all of my friends were joyous in sending and receiving their mug.
See, Liz from A Belle, A Bean, & A Chicago Dog sets up this little thing between bloggers. She played the Ninja Santa – setting a wicked web of bloggers & friends. You create a mug of your own blog, and then ship it to whomever you get assigned.
Last year, I was jealous . . . but, really, I wasn't much more than a wiseacre on Twitter. I did post, occasionally, but they were few & far between. But, I'll admit that watching the mugs travel around planted the sugarplums seeds of what you see here. A year later, I have my own domain name, I'm publishing intermittently regularly, I have seven followers!
Actually, though, last year, I had a tool to use to get myself up & working out more. Now, I have a corner of the web where I actually can call my own . . . so I joined in the mug swap.
First, I got the name of my partner . . . only, well, it was a name that I already knew. There are only a few people that I interact with on a regular basis that I actually know their real name . . . and, well, The Mad Woman behind A Diary of a Mad Woman is one of those that have gone from someone whose blog I would stop by every now & then, to someone whose blog that I had to visit after every post, to someone who I stalk someone who I'm happy to call a friend. If I had received a partner who I hadn't read regularly . . . well, I might have half-assed the mug. But, for the Mad Woman, I couldn't do that.1.
When she received her mug, though, I went into overdrive thinking who might have had me. I have a small following compared to any other blog out there, including the one that your grandmother set up in 1999 which she posted out-of-focus pictures of her cats sleeping to, but hasn't updated since 2003 most other people in "the blogosphere." I had assumed that I'd be introduced to someone new.
So, imagine my surprise when I opened the box from Zazzle to find the name of a blog that I had just recently started following myself. Tonya from Letters For Lucas, which just happened to have been a blog that I just started subscribing to. So, yay to reinforcing new friendships!
If you don't read Tonya, well, you should . . . she's smart & captivating, and is managing a whole "Dear Sophie Lee" with a public face . . . it really is a marvelous blog.
Of course, I just shipped my mug by itself . . . in fact, I had it shipped directly from the factory over to the Mad Woman. Tonya, however, turned the unveiling into a whole-family present . . . she filled the mug with Hershey's Kisses . . . and, well, I don't think she knows about my chocolate deficiency, but my wife & kids love her for being thoughtful.
---
1 As an aside, this whole thing has gotten me off of my ass & working to redesign my blog with my own WordPress theme . . . now, if only I could troubleshoot all of the errors I'm getting . . . damn trying to learn a language on the fly.