Where I cook with tater tots, sausage, and cheese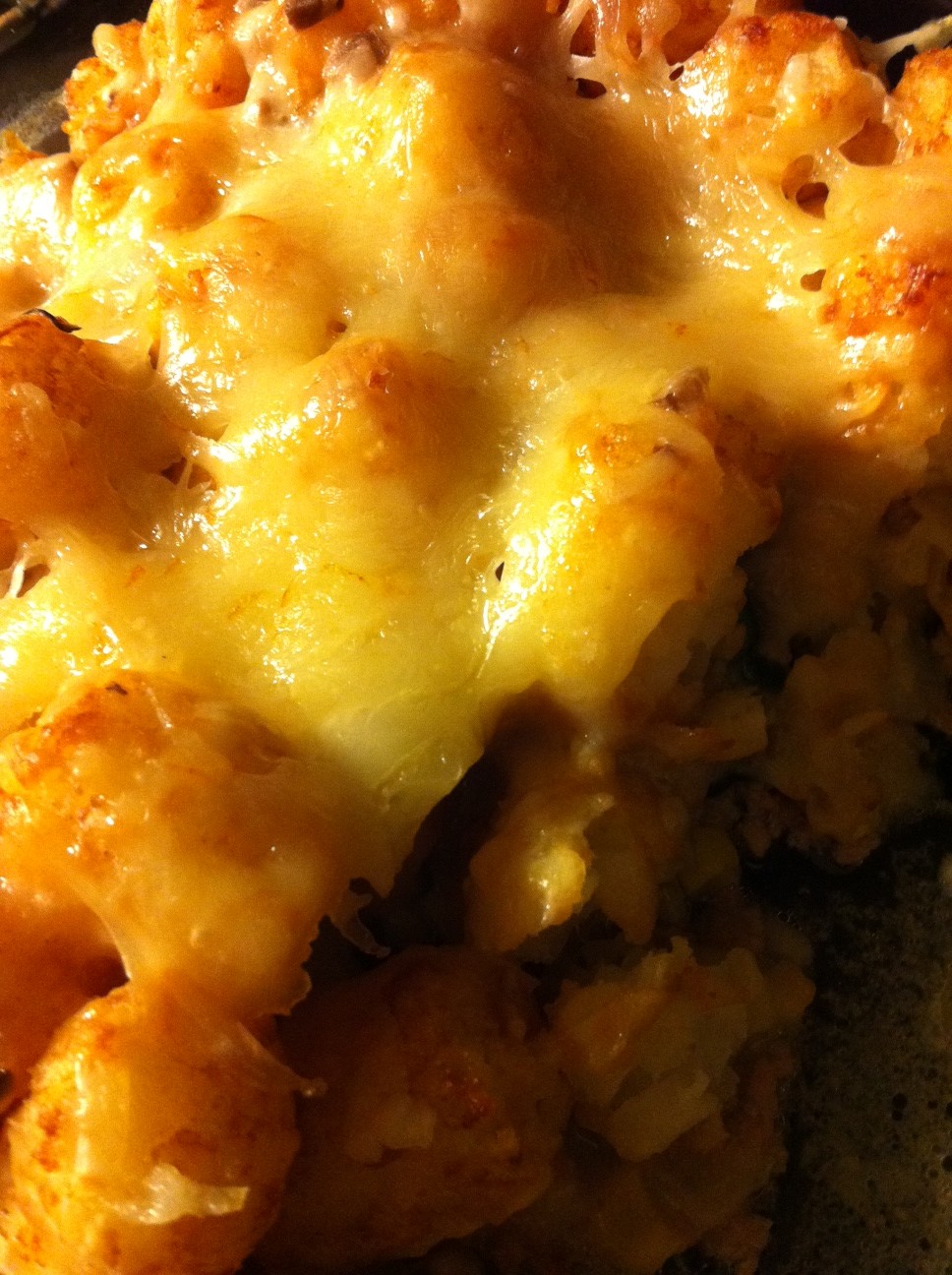 Not too long ago, Natalie, of Mommy of a Monster posted tater tot casserole recipe over on her blog. And, of course, I was intrigued, because, well, I like food, and she was including some of my favorites.
Then, a few days ago, Duffy & I were playing the "what the hell should we do for dinner" game that all parents play. We wanted something tasty. We wanted something that was cheap. We wanted something easy. And, since it was cold outside, we wanted something hot. And, for whatever reason, I thought about tater tots.
So, I looked up Natalie's recipe and decided to change it, just a little bit . . . I was certain I could sneak a few extra veggies in there, and we had just finished an English pie with ground beef, so I wanted a different meat.

Sausage & Spinach Dinner Tater-Tot Casserole
Ingredients
1 – 1½ pounds of loose sausage1
1 large onion
1 bag (16 oz) of tater-tots
A bunch of spinach (the more the better)
1 can of cream of mushroom soup
1/2 cup skim milk
A shitton of shredded cheddar
Enough olive oil to cook the sausage & onion
Directions
Preheat the oven to 350°F (175°C for my metric readers)
Saute the onion while cooking the sausage — this should take 5-10 minutes. Make sure the onion is thoroughly soft (if the sausage isn't cooked through, don't worry, that will happen in the baking)
Add spinach to the sausage/onion mixture until it's wilted down.
Spread sausage / veggie mixture on the bottom of a casserole dish.
Place tater tots, still frozen, in a single layer, on top of the sausage / veggie mixture.
Mix the condensed soup and milk thoroughly (I added some garlic powder here, too)
Pour milk/soup over the tater tots
Cover the entire thing with shredded cheddar
Bake for 35-40 minutes, until the tater tots appear done & things are bubbling up the sides
Let cook for 10 minutes before serving
Ta da!
---
1 I live in an area where people make their own sausage . . . if you can't get "loose sausage" where you are, just buy links & chop them up very finely