Where I write about my dog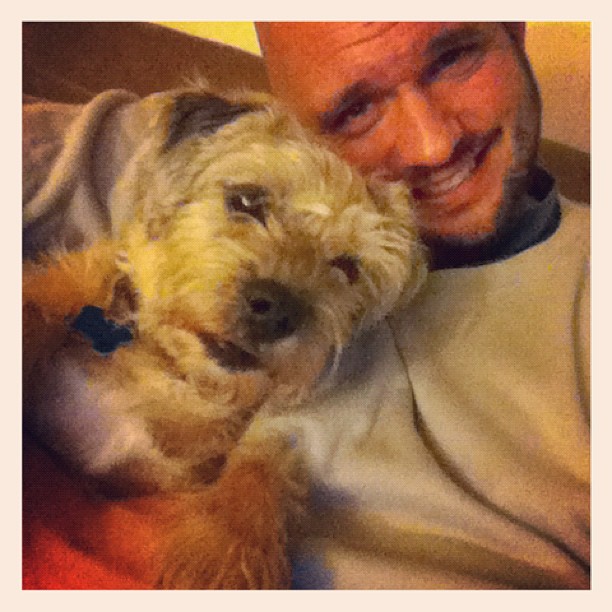 A few months ago, I got really, really scared. We were having a few friends over for pizza, and CJ decided that he needed to take his pizza with him to watch the movie that the other kids were all watching. There's a step between the kitchen and the TV room, and he was watching the movie & didn't pay attention, and he fell. And when he fell, the pizza fell off of his plate. And when he went to reach for the pizza to put it back on his plate, Snickelfritz snapped at him (food on the floor, as many dog-owners know, is in the doggie domain, but that's not a lesson easily taught to toddlers).
We calmed the situation down and CJ was just fine. Heck, five minutes later, he was far more upset about the fact that he lost his pizza than the fact that the dog snapped at him1, but it really opened our eyes to the situation. Since Snickelfritz's arrival, there has always been a little bit of a fight for "alpha dog" status in the house. Hobbes, whom Duffy belonged to when Duffy & I met, was older — but he just isn't a dog that is motivated by food. If you give him loving and walk him, he's happy. Snickelfritz, well, for him, food is love. And while I can try to put the wolfpack mentality to the house – it, simply, is that Hobbes doesn't care enough to assert dominance about the things that Snickelfritz does. And, until children, that made for a happy situation.
But the past few years have made Snickelfritz . . . anxious. I try to find a better word for it, but I really can't. Snickelftiz acts like someone who is living in constant fear that his wife is going to leave him, and he's going to lose his job, and the cops might arrive any minute to arrest him for that one time he smoked marijuana 22 years ago.
This night made us change a lot about the way the dogs and the family interact. Our bedtime routine generally follows that I fall asleep as the children play in our bed the kids fall asleep in bed with Duffy & me, and we transport them over to their own room . . . but, after that, they typically work their way back over to our bed before the sun rises. In other words, our kids spend a fair amount of time in our bed, and kids don't always move predictably, or quietly, or gracefully . . . and when there is a dog in the bed who is always anxious, well, it can lead to a hairy situation. Nothing bad has ever come — but that doesn't mean that it won't. We made the decision to stop letting Snickelfritz sleep in bed with us (he's a bit too out of shape in order to actually jump on the bed, himself . . . well, he's not, but he thinks he is, and because he doesn't think he can make the jump onto the bed himself, he won't do it). We lock the dogs in a different room whenever the kids are eating, just in case.
For the most part, these changes haven't affected the family dynamic all that much. Snickelfritz sleeps at the side of the bed, and is still a pain in the ass in the early mornings when I'm trying to take him for a walk. He's pretty vocal about not liking that he isn't allowed with the food-chuckers when they're chucking food, but he's not showing any more anxiety than he was before.
So, we've changed our reality. And it's been working.
But this morning, I changed my routine, just a little bit. I woke up, and I wasn't feeling very well. I walked the dogs and my sore throat and headache just got worse through the walk. After I got back, I chose, for the first time this year, to go back to bed (though I had planned to work out). However, my wife and kids were splayed out over the bed, and I didn't want to disturb them, and I was cold from being outside . . . . so I took myself into the guest room. And Snickelfritz whined at the side of the bed. Without the kids in bed with me, I saw no reason to keep him on the floor.
But I'll admit that I was fearful. As I said, Snickelfritz was anxious. I was afraid that he'd whine, and ask for attention, and want to play, and nudge my face with his nose. But he lied down, right next to me, nestled between my left arm and my body, his head resting on my bicep. He slept. I slept.
Shortly after we got Snickelfritz, we enrolled in "puppy kindergarten." As we approached Christmastime, I stayed around an extra day, to spare one vacation day and to take Snick to a scheduled class. After we got home, we played for a bit and I took him for his nighttime walk. There were two, large Great Danes who were also out for their walk . . . Snick saw them and, immediately, asked to be picked up. He wasn't more than a few months old at this point — terrier fierce, but quite small. It was cold, and I was wondering if he might have discomfort in his paws from salt on the sidewalk combined with the cold, so I picked him up. As soon as he was at a height greater than the walking great danes, he barked at them. "With my daddy, I'm bigger than you!"
That night, I allowed him to sleep in bed with me, as I was the only human home (we had been crate-training him to that point — he just didn't understand his bladder well-enough to make it through the night, consistently). When he slept, he slept against the small of my back, as I lay on my side.
When I woke up, still ahead of my emergency alarm2, I adjusted myself, lying on my side. Snickelfritz got up and curled himself in a ball, at the small of my back. We acted as heating pads to one another, just as we did when he was a puppy.
---
1 Heck, even to this day, if you ask CJ why you don't pick food off the floor, he'll get grumpy and say "Snick ate my pizza"
2 I set two alarms, one to wake up and get myself out of bed to walk the dogs & workout. Another, an hour & a half later, to either wake myself or signal that I need to end my workout right then and start getting ready for work.