Where I share some of my favorite crockpot recipes
Fridays are good days at casa de batzer. First off, it's the end of the work week . . . I, typically, need to work very early in the morning every Sunday, so I have the ability to take time off Friday afternoon to compensate (meaning extra gym time). This is Duffy's full day at the library, and we get together for #DateLunch most every Friday. After working out, I pick the kids up from my mother-in-law and then we head home for a relaxed dinner and movie night (our bedtime rules aren't incredibly strict, but they're downright lenient on Friday nights).
But, in all of this, with the two people who can actually operate an oven being at work all day, dinner gets complicated. And, well, when you're trying to keep yourself healthy, take-out really isn't in the cards (especially if you're doing take-out for lunch earlier that day). So, we deploy our slow-cooker. There are two meals, lately, that have been especially good.
Thai Chicken
3 pounds(ish) boneless, skinless chicken thighs
1 can of coconut milk
1 finger of fresh-grated ginger
1 tablespoon soy sauce
juice of 2 limes
1/2 cup peanut butter
1 onion, finely diced
2 tomatoes, finely diced
2 cloves of garlic, finely diced
pinch of sugar
Mix everything but the chicken together, very thoroughly
Place chicken in the crockpot
Place mix over chicken
Cook on Low for 10 hours
Garnish with chopped peanuts and fresh-chopped cilantro
When complete, I served this over jasmine rice.
You can save calories by using light coconut milk instead of regular, and by using chicken breasts instead of thighs, if cutting calories is a priority for you – though I really like the way dark-meat cooks in the slow cooker . . . too often, I end up with dried-out chicken breasts if I have to rely on my slow cooker's "keep warm" feature.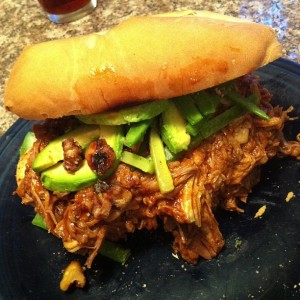 Pulled Pork
4-5 pounds, boneless pork butt or shoulder (I believe these are the same actual cut, but are named different based on your butcher and/or geographic region)
2 tablespoons salt
1 tablespoon cayenne pepper powder
2 tablespoons packed brown sugar
2 tablespoons garlic powder
2 sweet onions, sliced thin
1 cup of beef broth
1 bottle of BBQ sauce (your choice)
Combine salt, cayenne pepper, brown sugar, and garlic powder thoroughly.
Thoroughly dry pork with paper towels and rub salt mix into said pork
Place sliced onions on the bottom of the crock pot
Place rubbed pork over the onions
Pour beef broth over pork
Cook for 10 hours on LOW
With two forks, shred pork, return to crock pot.
Add BBQ sauce, mix thoroughly, and cook on HIGH for 1 hour
I served this on buns, with a slaw that I was making as the BBQ sauce cooked into the pork.
Snow-Pea & Avocado Slaw
A shitton of snow peas (roughly one pound), sliced thinly, length-wise (I was typically able to make 3-4 slices per each snow pea)
1 cucumber, sliced into narrow 3″ strips
2 stalks of celery, sliced into narrow 3″ strips
1 cup of walnuts, toasted
1 tablespoon of extra-virgin olive oil
the juice of one lemon
1 avocado, thinly sliced
Toast walnuts as you're slicing snow-peas, celery, & cumumber
Combine snow peas, cucumber, celery, olive oil, lemon juice, & walnuts and mix thoroughly
Add avocado slices and mix carefully
Serve with the pulled pork on sandwich buns