Where I sound my barbaric yawp
I didn't look very carefully at my calendar when I booked my races for this spring. The Garden Spot Village Marathon, I wanted to do because it was half of the "Road Apple Award." If one completes that race (either the full or the half marathon) in the spring and then the Bird-In-Hand Half Marathon in the fall, one gets a plaque to hang on the their wall to show off their sheer insanity to houseguests. On the plaque? Petrified horse poop1. So, I signed up for the race because that plaque is awesome — I'm not one for "race bling," but that, well, I was already looking for an excuse to sign up for a full marathon, and I enjoyed running the half marathon last year, so the promise of the plaque was just too much to say "no" to.
The Movie Madness Half Marathon is a race that my sister tried to get me to sign up for the previous year — and I didn't, for some reason or other . . . but, when the notice came out this year, I signed up immediately. I didn't realize that the race was exactly a week after the full marathon, at the time. I also didn't realize that the race was on Easter Saturday.
For those who might not know, I'm an organist at a Greek Orthodox Cathedral. Holy Week is a LONG week for me. Running a half marathon on Saturday morning means that my schedule had me:
Good Friday:

Rehearse with the choir from 6-7
Play Good Friday Service, get home between 10:30 and 11pm

Easter Saturday:

Wake at 4:30 to prepare self for half-marathon
Pick up packet at 6:30
Start run at 8
Run
Head home, play with the kids, eat something, cook for Easter dinner
Shower and dress
Get self to church by 9pm to rehearse with the choir
Play Easter service from midnight, hope to be home by 3am

Easter Sunday:

Wake with the kids
Finish whatever I was cooking
Party & celebrate Easter.
Fall asleep at, roughly, 8pm
But, I paid my entry fee and I felt that I needed to run this one. So, run I did.
Now, I'd be lying if I said that I wasn't disappointed with my performance in the Garden Spot Village Marathon. Despite the things I should be proud of: I set a personal record in the distance, I managed to chop a full hour off of the time of my first marathon, and I managed 26.2 hilly fucking miles2. I should be proud of myself. But, I wasn't — I didn't really care about breaking the four hour mark – as long as I ran the best race I could, I'd have been happy. Injury got in the way, and I was discouraged.
My original plan was, assuming that I performed well during the full-marathon, to dress up and "have some fun" with the Movie Madness Half — it'd be a glorified recovery run for me and they encouraged people to run, dressed as movie characters. If I didn't do well during the full, I'd take the half marathon as a serious race and allow myself some mental recovery. I really planned on the latter approach, but as the week went along, I figured "why not do both."
Being bald with a beard, I could only think of two costumes that would work, that I'd be able to run while wearing. The first was Forrest Gump — if I put on a red hat, you wouldn't tell I was bald, and I could dress as the "run for three years" guy. But, the other was as an extra from Braveheart — throw some blue make-up on my face, wear a kilt, and go about.
A six-foot-something bald man, buying blue eye-shadow, at Walmart, late at night, on Good Friday, does not warrant as many odd looks as one might expect.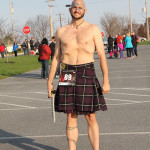 I woke early (I'd say "bright," but the sun wasn't out yet), and, because I was going to be running without a shirt, did a progression of push-ups, trying to eek out a little bit of "pump" for the pictures. Vanity, thy name is John. After early morning exercises, I went about my pre-race routine: shower, dress (compression shorts under the kilt – nobody needs to see more than that), coffee & toast with peanut butter, and then put on make-up. And then I stole one of my son's foam swords from the play room. I got to the race location early — I realized that I probably could have slept a full hour longer (this race was less than 300 runners in size, so packet pick up was an absolute breeze), but I think I did better being there early than if I were stressing about making it to the start on time.
About one-in-fifteen runners appeared to come in dress . . . the eventual "Best Costume" winner was a take on Wonder Woman — a handmade getup that was, really, well-done. I chit-chatted with other runners until "Lights, Camera, Action" and we were off.
The course, itself, was a "there & back again" route — a huge downhill between miles 2 & 3 meant a huge uphill between miles 11 & 12 — I kept that in the back of my mind as I went. Along the path, there were spectators about, and very regular & enthusiastic aid stations. The weather was perfect (chilly with a very mild breeze, but absolutely sunny – perfect running weather). There was about a 2 mile stretch of road (meaning 4 when you count the roads coming back) that was mostly packed-dirt, meaning post-winter potholes and loose gravel were about . . . so you ended up spending more time paying attention to the road than to your surroundings, which is a shame, as the road went along a very scenic river at the time.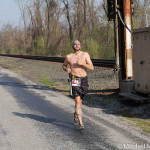 I hit mile marker 6 before I saw anyone coming back the other way . . . it was only at this time that I realized that I was truly running a fast-for-me race. For a "head out and back," the sooner you see the eventual winner, the more discouraging it is. The eventual winner, though, was "only" a mile in front of me — for someone who is used to seeing a winning time almost precisely half of my his time, this meant that I was either on a slow course or I was running well (in truth, it was a bit of both). I hit the turnaround and realized that I still felt really good — so I turned things up a notch. I also played to the crowd on my way back, pulling out the sword and yelling "FREEDOM" as I approached anyone who seemed to get who I was.
I continued heading as strong as I could until the last hill. I could only declare the hill as "brutal." It wasn't necessarily the incline — it was the incline at the end of the race, on top of the fact that a steep incline at the end of a race is what had me discouraged last time.
But as I ran up the incline (I didn't allow myself to walk), I started passing people who had passed me early on. And then I made it to the top. Once the path leveled out, I still had plenty of wind, so I pushed my pace.
And then I saw Super Man.
I decided that I needed to pass Super Man before the end. I was running faster from mile 12 . . . but what I didn't think would happen is that he would pick up his own pace at mile marker 13 (as I normally do). Despite my all-out sprint, Superman crossed the finish about 6 seconds before me.
But, my time at the finish? It knocked over 4 minutes off my previous best at the distance. More than that, I truly enjoyed the run – the whole time. It was a blast.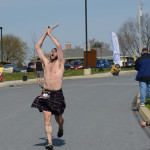 And I got a new Facebook Profile picture out of it & everything.
---
1
Both races head through the heart of Amish country, and it's far from uncommon to see horse-pulled buggies on the route . . . and, of course, horses leave presents on the road; these are known as "road apples." Stepping on a fresh road apple, while wearing
Vibrams
is not advised.
2 Runkeeper listed the actual distance as 26.51 miles. When push comes to shove, really, three-tenths of a mile makes absolutely no difference . . . except when you're forcing yourself to run. I make a habit of not looking at my phone as I run — the mile markers along the course are more than enough for me, and if I'm looking at my phone, I'm obsessing about stuff that I shouldn't be obsessing about while running. But, right after mile marker 25, I managed to get myself running again. With fear that my hamstring would seize in cramps with every step . . . I hit mile marker 26, still running, thinking "just half a mile, I can even do that if I'm cramping." But then 26.2 came. And then 26.25, and I still didn't see the finish line. For those last three-tenths of a mile, I felt like I was in some sort of purgatory.