Where I think about working toward a goal
My son is going through a major transition right now. Then again, something tells me that kids are in a constant state of transition until they move out of the house — but, I'm noticing this now. Well before he was two, I had had enough of "kids movies" and, one day, decided to randomly play Star Wars (Episode IV). He watched from the couch, wearing only a diaper, transfixed for the entire movie. I like to think that was when we started to see the "seeds of geek" take hold.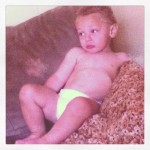 Soon thereafter, I put Lego Star Wars in the Wii, and CJ would spend HOURS a day with a Wii remote, pressing the trigger button. He didn't know what he was doing – he just liked making the "blaster fire" sound it would make. Especially in the early stages of Leila transitioning from the potted-plant phase, I really worry about how often I'd turn on the Wii, change characters to a blaster character, and let him go.
Of course, even to a toddler, this got old, and he started wanting to play the game. Now, he's not bad while playing it – though he far prefers when either Duffy or I play with him.
Well, Lego Star Wars allows you to buy characters, and he's started to realize this. He wanted the Emperor because he wanted to be able to shoot lightning at his foes. He wanted this character or that because he found them fun. He started wanting to collect all the characters . . . maybe he's becoming a digital hoarder, I don't know. For the most part, buying a character is a relatively easy feat – you get a little money every time you complete one of the chapters (the game is broken into the six episodes, and each episode is broken into six chapters) and most characters cost less than what you'll get from a single chapter. But, now, CJ is fixated on the ghost of Yoda. The ghost of Yoda costs well in-excess of the money you get from a single chapter. We've been playing the game for several days now, trying to find the chapters that we enjoy playing which we know will result in a decent yield, but now, we end & just find another chapter (CJ is used to finishing a chapter, heading to the bar, picking out a character, and then playing another chapter as said character, just to see what that guy can do). Every time we finish a chapter, CJ struggles in not buying someone new1.
As this goes on, we've started a new initiative program to get CJ to sleep in his room all night, every night (because, well, he likes to sleep in ways that keep me awake when he sleeps in my bed). After 30 days, he'll get to pick out a new toy. Right now, he has his eyes on the Playskool playset of Jabba's Palace. He will sit and look at pictures of "his toy" for hours right now. I don't possess anywhere near this much focus.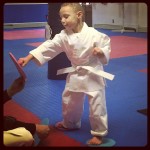 He's been in ninja lessons Tae Kwon Do for a few months right now. Every class, assuming he's made progress and has demonstrated the ability to make good choices, he receives a sticker toward one of the seven disciplines of his school (integrity, concentration, perseverance, respect & obedience, self-control, humility, & indomitable spirit). When he gets five stickers in any discipline, he gets a stripe on his belt. When his belt has all of the stripes, he'll be allowed to test for the next belt.
Delayed gratification is hard for a preschooler, yo.
All of this going on at the same time, well, it has him figuring that, for those things you really want, you need to work hard for them. I'm so very hopeful that the lessons stick . . . while part of me truly feels for him because, well, he's fighting this battle on three fronts at the time.
---
1 One of the neat things about this resurgence in interest in Star Wars is that he's been wanting to watch the movies more & more. While I'm always up for watching Star Wars, watching the kids watch them has really become interesting. That original Star Wars viewing basically had a toddler following a bunch of noises & flashes across a screen. Sure, he found some of the characters, and, perhaps, followed the story (as well as a one-year-old can follow a two hour tale), but it was in-one-ear-and-out-the-other. Now, at four, nearly five, though, he's actually stringing the story together. He's really getting that Anakin turned to Darth Vader, and this is how it happened, and these are the mistakes he made, and this is how he redeemed himself. I'm still listening to the audiobooks of Harry Potter, and, just the other day, both kids were stringing together Wormtail's story. My geeky little heart could NOT be happier with this advancement.
Leave a Reply