Where I run for chocolate (despite despising the stuff)
I seldom travel for races. I can count, on one hand, the number of times that I've slept in a bed, other than my own, the night before any given race. It's not that I don't like to travel — it's just that a run becomes a priority, so it takes a considerable amount of time away from visiting a given place. Disney? Was great, but I ended up going to bed at, like 8:00 the night before the run, and spent race day in a sore fog, walking all about the park.
So, without traveling much, I know the local races about me quite well. The inaugural year of the Hershey Half Marathon was the first year that I got into running, but the race sold out before I had a chance to register. The next year, I signed up as soon as registration opened, and I have run the race every year since.
So, while I don't generally travel for races, I love playing host . . . and, this year, I convinced a friend to travel from Canada to stay with me for the running of the Hershey Half Marathon. This meant spending the day before a half-marathon, again, at Hershey Park. Which, again, might not be the smartest idea — but it sure was fun.
Race day meant waking brutally early1 to walk Benji, before dressing and heading out to the start, where it was cold.
Really.
Fucking.
Cold.
When I was a bit…fluffier than I am these days, I was seldom cold. I mean, I'd be able to go most anywhere in shorts & a t-shirt, and, if I wasn't wet (and therefore had water freezing against me), I'd be fine. These days, that is no longer the case.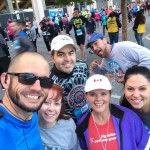 The temperature was actually dropping from the relative warm that I met with the dog walk. That dog walk convinced me to wear shorts . . . fortunately, I packed pajama pants and a sweatshirt in my truck, just in case . . . I put them on.
I was still cold.
Eventually, the race started. I went my best wishes to the friends around me and took off.
And here is where I start thinking really good things about the Harrisburg Marathon (10 days from the day I'm pressing publish on this post). See, well, I don't remember a whole lot about this race.
I accidentally pulled my headphones out of my iPhone, so I had to manually restart my music at one point. I ended up being surprised by the start (I was expecting a few extra minutes to move into a faster corral), so I had to deal with more crowds than I would have liked, right from the start. But, I hit my pace right after mile marker one.
I can, honestly, say that I didn't even notice most of the mile marker signs.
I was able to say "thank you" to most any volunteer that I saw.
High-fives to any child/student along the course who would stick out their hand were delivered.
The hills, or lack-thereof, didn't bother me.
The cold, once I started going, was of no consequence.
I did manage to see a friend running the other way during a small portion where runners approaching the 8 mile marker, and those just leaving the 9 mile marker, run past one another on the same road.
In short, I hit the "runner's high" around mile 1, and it continued until the end.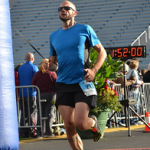 I finished just shy of 1:50 . . . slower than the ultra-flat Philadelphia Rock & Roll Half-Marathon, but a good 30-seconds-per mile faster than I've previously run this race.
This was a warm-up for the Harrisburg Marathon. I have to say, for a warm-up run, it felt really damn good.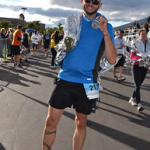 ---
1
My friend was up earlier because of an alarm issue
2
.
2 I consider myself far my knowledgeable about Canada than most of my fellow citizens, but this particular friend was from Nova Scotia, which is in the Atlantic time zone, which is a time-zone that I thought avoided land, in the northern hemisphere.
Leave a Reply